Our Veterinarian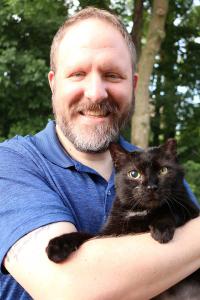 Dr. Sam Valerius

Veterinarian/Owner
Dr. Valerius is originally from Hamilton OH. He obtained his undergraduate degree from Ohio Wesleyan University and his veterinary medicine degree from The Ohio State University. He has worked at small animal practices in both Grove City and Dublin and has returned to Grove City to open his very own practice!
He believes that all animals should have access to quality medicine, whether they have fur, feathers, or scales and sees a variety of different critters as patients. Dr. Valerius was mentored by Dr. Don Burton, founder of the Ohio Wildlife Center, and has been a volunteer at the wildlife hospital since 2007. His favorite animals to see are rats, opossums, cockatiels, and turtles.
When not working, Dr. Valerius enjoys traveling, playing chess, and spending time with his wife and 5 cats.
Our Staff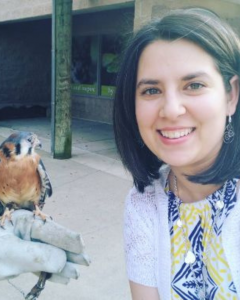 Gabi Valerius

Hospital Administrator/Owner
Gabi co-founded All Critters with her husband, Dr. Valerius, after a long walk on an autumn afternoon. An Ohio Wesleyan University alumna, she graduated from The Ohio State University with a master's degree in Veterinary Public Health. She has a passion for all animals and after over a decade in the food safety/microbiology industry she is excited to be back in the veterinary field! She is especially thrilled for the partnership with Cat Welfare Association to help spay and neuter feral and stray cats in the Columbus area. Although an avid cat lover, rats, mice, guinea pigs, and turtles will always be near and dear to her as well. In her leisure time, she enjoys reading, biking, gardening, and traveling with Dr. V.
Hallie

Customer Service Representative
Hallie is an Ohio native who graduated from Bradford's Vet Tech Institute in 2012. Over the years, she has worked in both emergency medicine and general practice. She has 3 cats, Dory, Libby, and Donut Kitty, all lovingly named by her children. Outside of work, you will find Hallie at the ballpark, cheering on her daughters playing softball. She also enjoys reading, listening to music, bike rides, and spending quality time with family and friends. While Hallie has always had a love for all animals, guinea pigs will always hold a special place in her heart. Hallie is so excited to be a part of this new team, and she looks forward to meeting you and your critters!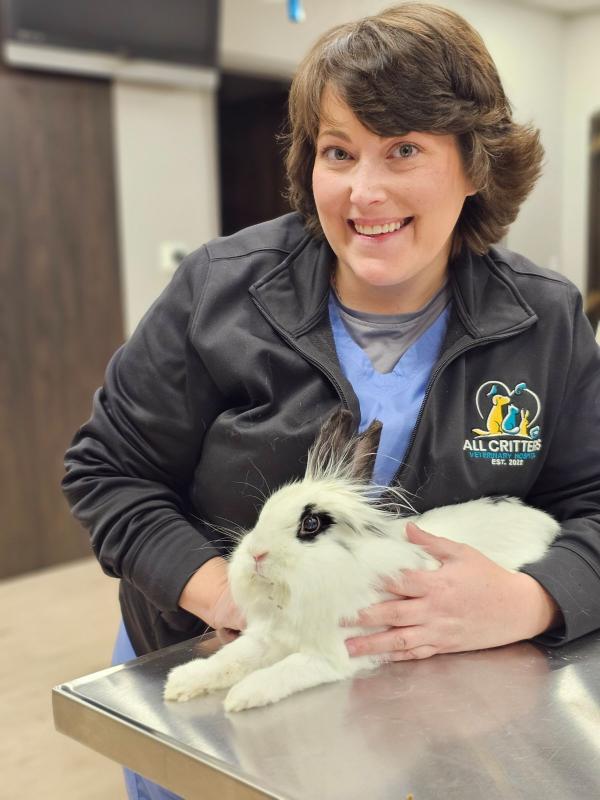 Sam

Registered Veterinary Technician
Sam graduated from The Vet Tech Institute at Bradford in 2012, and has worked as an RVT in both general practice and emergency medicine since then. Her favorite part of the job is surgical nursing and critical care, with a special interest in wildlife rehabilitation. While she has brought home countless critters over the years, she would have to say that rats are her favorite pocket pets. When she isn't taking care of animals, Sam enjoys reading, crafting, and adventuring with her husband and their son. She is so excited to be returning to Grove City to join this amazing new team, and she can't wait to meet all of your critters!
Nina

Registered Veterinary Technician
Nina graduated from Bradford's Vet Tech Institute in 2009, and has worked as a Registered Veterinary Technician in general practice, high volume spay/neuter, and emergency medicine since then. Her favorite parts of the job are wound treatment and surgical nursing. She is an Army Veteran and enjoys anything in the great outdoors. Her favorite animals are primates, marsupials, and birds.